Invisalign Clear Braces: Convenient Orthodontics For Fairfax and Gainesville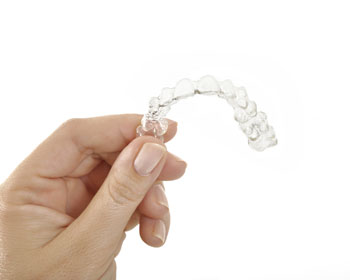 Many patients dream of a smile full of sparkling, straight teeth, but they just can't imagine themselves wearing traditional metal braces? If you've spent a lot of time and energy investing in a professional image and personal style, the last thing you'll want to do is wear bulky metal braces for the next two years like a teenager, just to straighten your teeth. We understand. That's why we now offer clear and convenient orthodontics with Invisalign clear braces. Invisalign is a popular orthodontic treatment because of its virtually invisible technology which reliably straightens teeth without the hassles of conventional metal braces. With Invisalign, a custom-molded set of transparent and removable aligners will progressively reposition your teeth. You can easily remove the aligners before eating, brushing, flossing, or for special occasions or important meetings. Patients with Invisalign don't experience the mouth abrasions caused by metal and wire braces, and Invisalign clear aligners are easy to care for. Invisalign technology is more comfortable and convenient than traditional braces in every way. Make an appointment with Dr. Bassiri today to start your Invisalign journey today.

How Does Invisalign work?
As a certified Invisalign dentist, Dr. Bassiri will we use 3-D computer imaging to design a comprehensive treatment plan. This allows you to preview the final positioning of your teeth before you start treatment. We'll send this information to the Invisalign labs where they will create a series of custom acrylic aligners to reposition your teeth over the next one to two years. Simply wear each aligner in succession for about two weeks. You'll exchange aligners every couple of weeks until your smile is straight and beautiful. Typically, you will visit Dr. Bassiri every six weeks so that he can monitor your progress. You can remove your aligners when you wish, but you must wear them for at least 20-22 hours per day for optimal results.
Why Choose Invisalign?
Teen and adult patients love Invisalign because it is removable and inconspicuous. Invisalign is a transparent, removable and hassle free orthodontic solution. Metal braces can straighten teeth and improve your smile in the long run, but in the mean time, they detract from a sophisticated image. With Invisalign, you now have an alternative to bulky metal orthodontia. Clear and removable braces by Invisalign can give you the uniform, attractive smile you desire, often in a year or less.
Invisalign Appointments
If you need an experienced Fairfax cosmetic dentist, make an appointment with Dr. Bassiri for your Invisalign consultation today. Dr. Bassiri proudly serves patients daily throughout the Fairfax McLean and Gainsville area in Northern Virginia, the greater Washington DC Metro area, and neighboring communities.