About Your Faixfax & Gainesville Dentist, Dr. Michael Bassiri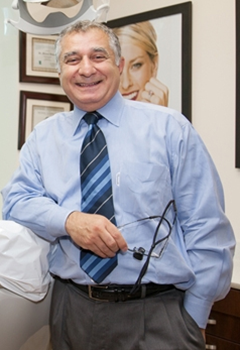 Since opening in 1991, Dr. Michael K. Bassiri and his team have worked hard to care for our patients and deliver exceptional dentistry. Our staff is comprised of professional, skilled individuals who truly care about the well being of our patients.
Dr. Bassiri graduated from Georgetown University School of Dentistry in 1990, and has built upon his education with extensive experience and continuing education. He advanced his expertise in aesthetic and cosmetic dentistry by graduating from the Las Vegas Institute for Advanced Dental Studies (LVI), the premier post-graduate dental teaching center. He can perform full-mouth restorations, just like those conducted on TV makeover shows. Smile transformations are one of his specialties.
Dr. Bassiri has lived and worked in the Washington D.C. area for over 39 years. He has been married to his wife, Susan, for over 34 years and they have two children, Steven and Leeza. The Bassiri family currently lives in Northern Virginia.
Our Dental Facilities
We want your visit to our offices to be enjoyable and memorable. That means providing an attractive, comfortable environment with all the latest technology which enables us to give you the best experience we can.
Our state-of-the-art facilities are outfitted with the latest dental equipment and tools, which interface with each other to share information effectively. We use nine networked computers and various whitening, laser, x-ray, and digital positioning machines. This technology enables our staff to effectively and accurately determine the best solutions for patient care.
Our state-of-the-art technology includes:
K-7 Neuromuscular tracking technology
Casey patient educational system
Nine networked computers
We invite you to come and visit our dental practices in Fairfax and Gainesville, and enjoy what our technology has to offer.