Bringing Out Your Very Best Smile with Professional Teeth Whitening from Dr. Bassiri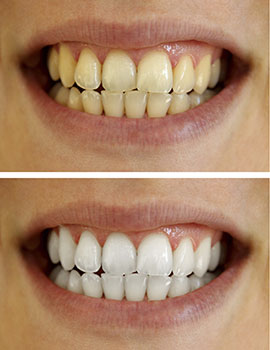 Do you want a bright smile? Have you noticed that people at the office, your neighbors, and even some of your family members have amazingly white teeth? Do you want a picture perfect set of pearly whites too? You deserve to express your inner beauty to the world with confidence, and we'd love to help you! Dr. Bassiri offers professional strength teeth whitening. Professional strength teeth whitening is the most effective way to brighten your smile, and takes less than an hour with in-office treatment. The simple procedure requires no anesthesia, and is perfectly safe. After preparing your teeth, we will apply whitening gel and activate the whitening process with a special curing light. You'll leave our office with a smile that's up to 10 shades whiter. It's easier than ever to get the dazzling white teeth you've always dreamed about. Dr. Bassiri is a leading Fairfax cosmetic dentist, offering both chairside and in-office teeth whitening systems with convenient custom fabricated take-home trays. Both options can erase years of staining and discoloration to deliver dazzling results.
One Hour In-Office Teeth Whitening
Dr. Bassiri provides Zoom teeth whitening. More than 15,000 practices use Zoom Whitening, making it the most widely implemented teeth whitening system. Patients across the globe have gained a brighter, whiter smile with this innovative, award-winning teeth-whitening procedure. You can boost your confidence and rejuvenate your image with Zoom Whitening now. Zoom teeth whitening is effective and safe for patients whose teeth have yellow, brown, or orange tinges due to age, food stains, heredity, or tobacco use. If luminescent teeth whitening will not improve the color of your smile, we can also recommend alternative cosmetic dental procedures sure to brighten your teeth and give you a reason to start flashing your pearly whites.
Take Home Teeth Whitening
You may prefer to whiten at home, and we can help with that, too. If you prefer to whiten your teeth gradually or you simply like the convenience of teeth whitening at home, Dr. Bassiri can also provide professional-strength bleaching kits. We'll create custom trays to make home teeth whitening comfortable. You'll wear the custom trays for one to two hours per day for about two weeks. After just one treatment, you'll see results. By the end of your home teeth-whitening session, years of staining and discoloration will be history, and you'll enjoy the sparkling smile you deserve. Take-home trays can also touch up and maintain in-office teeth whitening.
Teeth Whitening Appointments
Most patients will experience dramatic results with either teeth whitening method, though not all discolorations can be lightened with the treatment. Teeth whitening treatments are most successful in removing yellow, brown, or orange tinges incurred from aging, coffee, tea, or smoking. However, dark gray tones from fluorosis, smoking, or tetracycline use may not whiten as dramatically; artificial materials such as silicones or porcelains do not whiten from bleaching. Patients with sensitive teeth, periodontal disease, or worn enamel typically do not respond well to teeth whitening. For these cases, cosmetic procedures such as veneers may provide the best solution for a movie-star smile.
If you need an experienced cosmetic dentist who understands the importance of both form and function, call Dr. Bassiri to schedule your teeth whitening consultation today. Our conveniently located dental offices proudly serve patients throughout the Fairfax McLean area in Northern Virginia and the greater Washington DC Metro area. We can't wait to create and maintain your sensational new smile!