Preventive & General Dentistry in Fairfax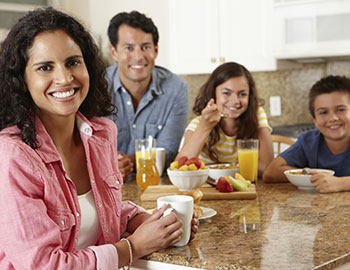 To maintain your healthy smile, regular dental checkups, cleanings, and restorative dental care is required. Dr. Bassiri recommends that you visit our Fairfax or Gainesville dental office at least twice each year for a comprehensive examination and dental hygiene appointment. We use innovative tools to make your dental experience comfortable. For instance, DIAGNOdent cavity detection laser finds tooth decay in the earliest stages, and our laser dentistry is precise, comfortable, and minimally invasive.
Many times, discomfort of the mouth, jaw, face, or neck stems from a misaligned bite. At each of your checkups, Dr. Bassiri will assess your occlusion to make sure that your temporomandibular joints function properly and your upper and lower jaws come together correctly. As an LVI dentist, Dr. Bassiri has studied neuromuscular dentistry. Our office uses a TENS unit and K-7 to find optimal jaw alignment so that corrective, non-surgical TMJ therapy can effectively correct occlusal problems. When the jaw aligns properly, the patient reduces the risk for associated pain and tooth wear. Dr. Bassiri believes that new dental work should only be built upon a strong foundation.
If you need an experienced general dentist who understands function and cosmetics, call Dr. Bassiri to schedule your consultation today. Our comfortable dental offices serve patients from the Fairfax McLean area in Northern Virginia and the greater Washington DC Metro area. We can't wait to create and maintain your sensational smile.