April 2, 2018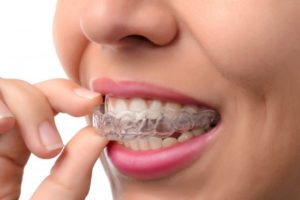 You've always disliked the look of your crooked teeth, so now you've finally begun the search of finding the right orthodontic solution. While traditional braces work, they don't really fit your lifestyle. You'd rather prevent making dramatic changes to your image and the idea of introducing a ton of new hardware to your mouth doesn't sound appealing.
Hopefully, Invisalign in Fairfax can meet your preferences. It can sure give you the straight smile you've been looking for!
What is the Process for Getting Invisalign?
During your consultation, your dentist will start by determining your eligibility for Invisalign. Once they confirm that you're a good candidate, they'll begin building a comprehensive treatment plan. Through the use of 3D computer imaging, you and your dentist will be able to preview each stage of your realignment before you even start treatment.
Once they've gathered this data, your dentist will send it to the labs at Invisalign where they'll create your series of clear aligners. These acrylic, custom-fitted trays represent each stage of your realignment. To achieve effective results, you'll need to wear each pair of aligners in your series for 20 to 22 hours per day over the next two weeks. Then, you'll switch to the next pair in the series.
Am I a Good Candidate?
If you have mild to moderate levels of misalignment or gaps in your smile, you'll likely be a great candidate for Invisalign in Fairfax. It's also great for patients who don't want to deal with the hassle of metal hardware typically associated with traditional braces. Your dentist doesn't recommend that children pursue Invisalign treatment, but teenagers are great candidates because their teeth are still developing, but not as rapidly.
According to your Invisalign dentist in Fairfax, it doesn't matter if you're an adult who wants to realign your teeth. In fact, adults are considered one of the most common candidates for Invisalign because they had previous orthodontic work done. Unfortunately, failing to wear the necessary retainer after having braces can cause teeth to shift back to their original position, but Invisalign helps correct that.
How Much Does It Usually Cost?
The price of your Invisalign treatment can vary by many different factors. Everything from your location to the severity of your realignment case can influence your total price. The longer you undergo treatment, the more orthodontic appointments you'll need to make as well.
Regardless, Invisalign clear aligners cost anywhere between $3,500 and $8,000, but you won't know for sure until you visit your dentist for a consultation. Considering you'll have the convenience of removing them to eat and brush, you'll have a far more comfortable experience compared to traditional braces. Furthermore, most people won't even notice them since they are clear.
A straighter smile is possible with the help of Invisalign. Schedule a free consultation with your dentist today to learn more!
About the Author
Dr. Michael Bassiri earned his dental degree from the Georgetown University School of Dentistry and since then, he's built heavily upon his education. After attending the Las Vegas Institute for Advanced Dental Studies, he's now capable of performing full-mouth restorations. To learn more about Invisalign treatment or his practice, contact him at (703) 385-9161 or visit his website.
Comments Off on Considering Invisalign in Fairfax? Learn About the Process Today!
No Comments
No comments yet.
RSS feed for comments on this post.
Sorry, the comment form is closed at this time.