August 27, 2018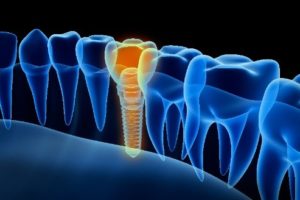 Now, when it comes to replacing missing teeth, many people are choosing an alternative to traditional options with dental implants in Gainesville. Unlike other solutions, they replace both the root and crown of the tooth to closely look and feel natural. In addition, the offer the highest success rate at over 95%. Their benefits and success are not just attributed to the materials used and the treatment process but also new technology.

Benefit from Advanced Technology
New advancements in technology have transformed the dental implant process to promote their long-term success. From start to finish, you will find state-of-the-art advancements used throughout your treatment.
Imaging Technology
Before your implant posts are placed, you will enjoy the latest advancements in imaging. Not only are digital x-rays taken to evaluate the health of any remaining natural teeth, but 3D CT scans are used as well.
This allows your dentist in Gainesville to have a complete insight into your oral health and structures. They can evaluate the health of your jawbone, nerve pathways, and other vital structures to determine if you are a candidate for the procedure. In addition, the images are used to pinpoint the precise location for the implant posts. This removes trial and error from the process to promote the long-term success of the procedure.
Digital Impressions
To create your custom-made prosthetics to fill the space of your missing teeth, you will enjoy digital impressions. This is a quick and painless process to get exact measurements of your mouth to ensure that your crown, bridge, or denture will meet your needs.
CAD/CAM Software
Digital impressions integrate with CAD/CAM software. This allows your dentist in Fairfax to create the specifics for your restorations down to the very last detail. They will meet your exact size, shape, and color needs to improve the aesthetics and function of your new smile.
High-Quality Restorations
Using the information from the CAD/CAM software, your restorations will be made from all-ceramic material. This allows them to look like a real tooth. They will be strong and durable to last for several years to come with the right care.
Enjoy the Latest Technology
If you are ready to replace your missing teeth with dental implants in Fairfax, benefit from the latest technological advancements to complete your smile. Choose a dentist who embraces state-of-the-art technology to help promote the long-term success of your treatment.
About Dr. Michael K. Bassiri
Dr. Michael K. Bassiri has provided comprehensive dental care to the community since 1991. He strives to deliver exceptional dentistry to meet the specific needs of each patient. In addition to earning his dental degree, he continued his education in cosmetic dentistry and advanced dental studies. As a result, he offers many areas of specialty care, including dental implants. Supported by extensive experience and the latest technology, he can successfully replace your missing teeth. If you are ready to regain a complete smile, contact our office today to see if you are a candidate for dental implants.
Comments Off on Technology Promotes the Success of Dental Implants in Gainesville
No Comments
No comments yet.
RSS feed for comments on this post.
Sorry, the comment form is closed at this time.